Assessments
Our assessments start with a consultation by our lymphoedema specialist, which include a full medical history to identify risk factors and tailor the appropriate treatment plan for each person.
Initial assessment
Our assessments start with a consultation by our lymphoedema specialist, which include:
A full medical history
Circumference and Bio-impedance body analysis using the latest technology
Treatment and management plan determined
Education
Risk reduction strategies
Bio-impedance
Our Bio-impedance assessment involves a noninvasive scan of a person's total body water and fat mass, which helps in the assessment and treatment of lymphoedema. Furthermore, the scan is complete in just under 30 seconds. Bio-impedance also helps in early detection so our therapists can proactively begin formulating a treatment plan.
Why have the Bio-impedance scan?
This scan allows us to objectively measure the fluid changes throughout your body and swollen limb. It is essential to have a baseline scan so that follow-up monitoring can detect changes and allow our therapists to adjust the treatment plan accordingly.
It is especially important in patients suffering from cancer or surgery involving the lymphatic system as this may result in the development of lymphoedema. A scan pre and post-treatment/surgery can detect early changes in fluid so that we can proactively begin treating the effected limb before symptoms even arise.
Contact us
Get in touch with us so that we can find a suitable time for a consultation together.
Further reading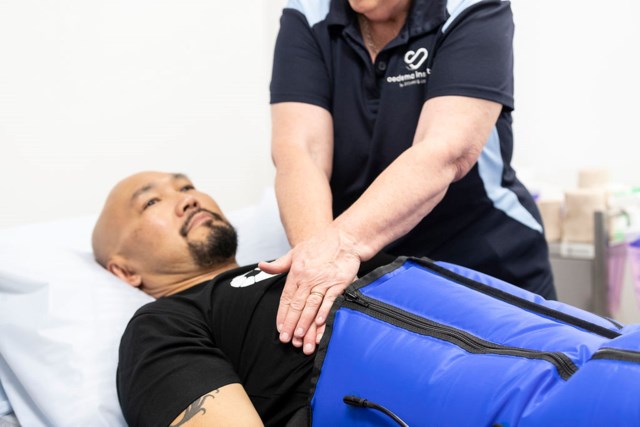 Our Treatments
The Oedema Institute focuses on using the latest research and technology to customise treatment plans for each patient.
Garment fitting and advice
Medical compression garments come in different classes and sizes and at the Oedema Institute we personalise the garment fitting service as a tailored approach to meet each patients' individual needs.